AHMA invites you to enjoy…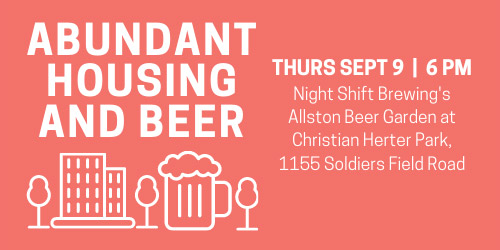 The Abundant Housing MA board of directors invite you to join us for our first in-person gathering since our launch in April, 2020.
Enjoy the closing days of summer while hanging out with AHMA members and other pro-housing activists from around Greater Boston over a cold drink in a completely outdoor setting: Night Shift Brewing's "Owls Nest" beer garden in Allston.
Event registration includes complimentary beverages for all attendees, including: beer, hard seltzer, wine and non-alcoholic beverages. 
FREE ADMISSION FOR ALL AHMA MEMBERS with link provided via email.
GUESTS: $15
AHMA loves your children and they are welcomed to attend free of charge; however, they must remain under supervision of a responsible adult at all times. And of course no one under 21 may drink or possess alcohol at any time.
Night Shift's Owl's Nest in Allston is located in Christian Herter Park at 1155 Soldiers Field Road (Between Harvard Stadium & Everett Street).
AHMA takes Covid-19 precautions seriously and we continue to track ongoing developments relating to the pandemic. AHMA and Night Shift Brewing will enforce any relevant local, state, or federal mandates regarding masking, social distancing, etc. AHMA highly encourages everyone eligible to get the Covid vaccine.