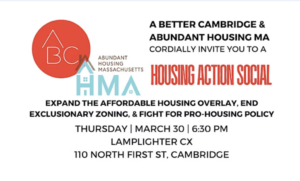 Thursday, March 30th at 6:30 pm
In 2023 Cambridge can expand the number of affordable housing units in our City – but only with your help! To get ready, Cambridge's pro-housing advocacy group, A Better Cambridge, and their state-wide counterpart, Abundant Housing MA, are hosting a joint event for folks in Cambridge to learn more about how you can help solve the housing crisis. In 2023, ABC is pushing to end exclusionary zoning and strengthen the Affordable Housing Overlay in Cambridge, and across Greater Boston, AHMA is leading Massachusetts' largest-ever pro-housing organizing campaign to pass state-mandated zoning reforms in 175 communities.
Come out to learn more and meet your neighbors! RSVP Below.